Dentures are prosthetic replacements for missing teeth and the surrounding tissues. They are removable and restore your ability to speak, chew, and smile. Dentures can be partial or complete.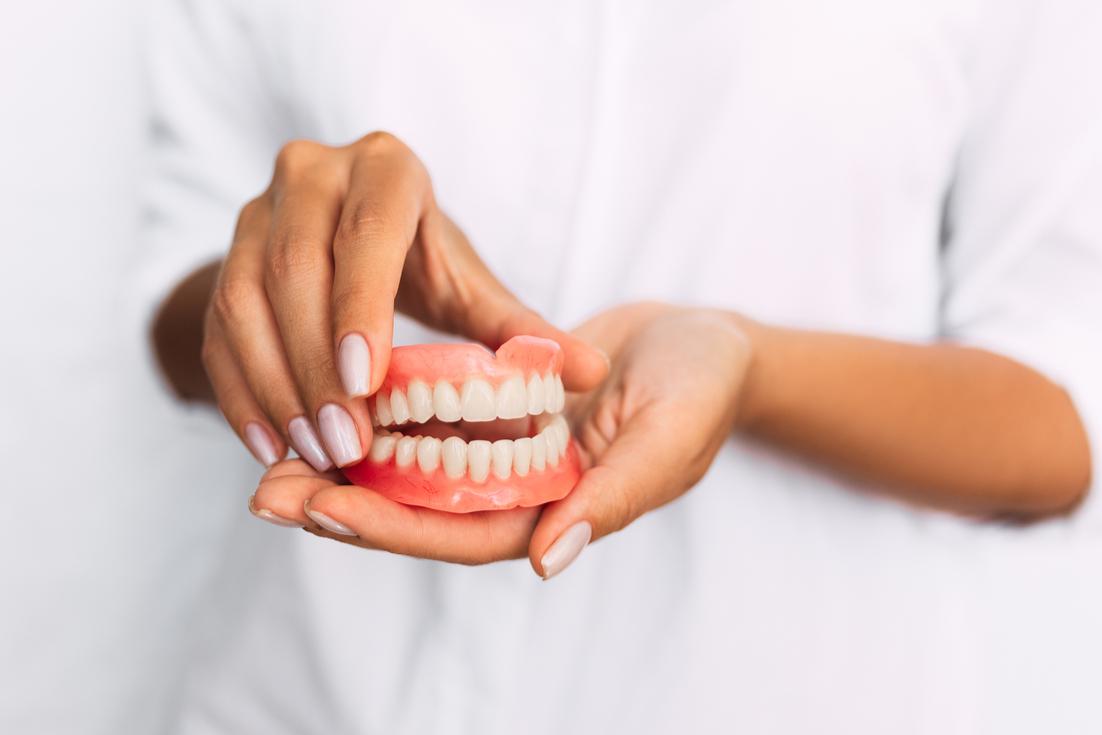 Our dentists will recommend the suitable option for you between the two based on the condition of your teeth. If all your teeth need replacement, complete dentures will be recommended. On the other hand, if only two or three teeth are damaged or missing, partial dentures are more suitable.
How Do Dentures Work?
Dentures are made from a flesh-colored acrylic base and artificial teeth. They rest on top of the gums. The base of the upper dentures covers the palate, whereas lower dentures have the shape of a horseshoe to accommodate your tongue.
Dentures are personalized by the dentist based on impressions of your mouth.
The Process of Getting Dentures
The process of getting dentures begins with the dentist taking a number of impressions or molds of the oral tissues in your mouth that will support the dentures. Then, the impressions are sent to the dental lab, where a model is manufactured.
Using this model, the dentist and the technician will build your customized dentures and fix them in place to accurately accommodate your bite and your external facial features. It may take up to one to two months until the final dentures are manufactured and can be placed.
Until the permanent dentures are ready, the dentist can provide you with temporary dentures.
Aftercare for Dentures
Your dentures will last longer if you:
Handle them with care since they are delicate and can break if dropped.
Keep them in a denture-soaking solution or cold tap water after removing them, to prevent drying out.
Brush them regularly, this will prevent them from getting stained or accumulating tartar.
Clean your mouth thoroughly before inserting the dentures and after eating.
Visit your dentist if you notice your dentures have chipped, cracked, or are feeling loose.
Have yearly denture checks with oral cancer screenings.
With over 30 years of experience offering exceptional dental services to our community, at Cheyenne Mountain Dental Group, we are still continuing our journey, under the leadership of Dr. Stephen Davis along with Dr. Bill Bertsch. For more details and appointments, call us at (719) 576-3276, book online, or visit us directly at 3605 Star Ranch Rd, Colorado Springs, CO 80906.