Invisalign is an orthodontic device that helps straighten misaligned teeth. It is made of clear plastic and, hence, is invisible. Invisalign applies constant pressure to the teeth, pushing them to the desired position using many different techniques. At Cheyenne Mountain Dental, our dentists are certified and recommend Invisalign as an excellent orthodontic treatment.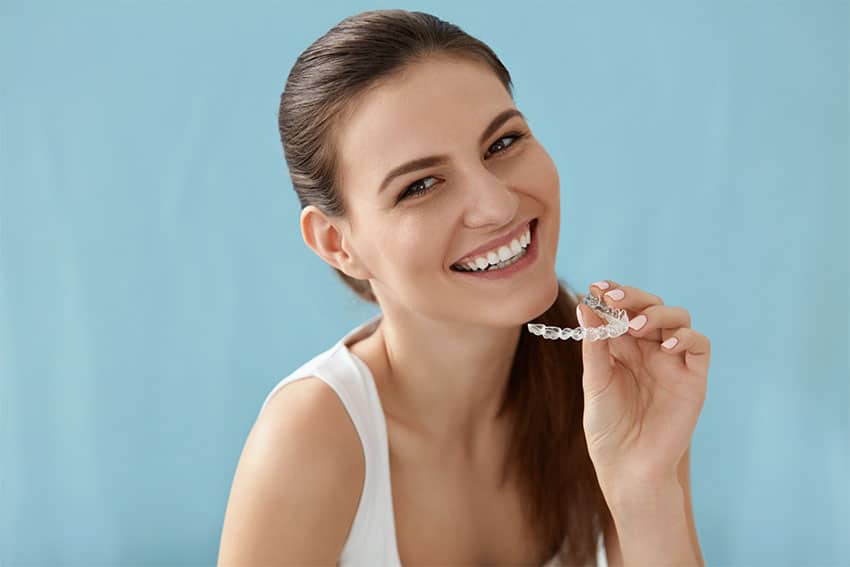 Advantages of Invisalign
Invisalign provides numerous aesthetic benefits to patients.
It is a non-invasive procedure and causes minimal discomfort to the patient.
The clear aligners help treat numerous bite issues.
The aligners can be removed when eating.
A special diet is not required for the patient during the treatment.
They are removable and, therefore, help the patient maintain good dental hygiene.
What Is the Procedure for Invisalign?
The dentist will evaluate the patient's teeth to confirm that they are a candidate for Invisalign. Taking the patient's dental health into consideration, they then formulate a treatment plan that best suits their dental condition. An impression or digital scan is then taken of the teeth and sent to the laboratory for in order to fabricate the custom-made aligners. 
The series of Invisalign aligners must be worn as per the instructions of the dentist. The aligners are placed on the teeth and necessary adjustments are made for a perfect fit. The patient may feel minor discomfort for a few days, which subsides with regular use.
It is essential to wear the Invisalign aligners for at least 22 hours each day for effective results.
Aftercare for Invisalign
The patient will be instructed on how to care for their Invisalign aligners to avoid damage. The aligners should be removed before eating as they may get stained or damaged. The patient should also remove them before drinking hot tea or coffee water as the plastic material of the aligner may melt or become deformed.
Rinsing the aligners thoroughly after removing them and before placing them back in the mouth will help to keep them free of bacteria and help to reduce staining of the clear material. A soft-bristled brush is provided to the patient for cleaning
With over 30 years of experience offering exceptional dental services to our community, at Cheyenne Mountain Dental Group, we are still continuing our journey, under the leadership of Dr. Stephen Davis along with Dr. Bill Bertsch. For more details and appointments, call us at (719) 576-3276, book online, or visit us directly at 3605 Star Ranch Rd, Colorado Springs, CO 80906.