The use of lasers for treating a number of dental conditions is known as laser dentistry. It is a more comfortable treatment option for several problems that involve the hard or soft tissues in the mouth. Lasers also make dental treatments more efficient and cost-effective for the patient.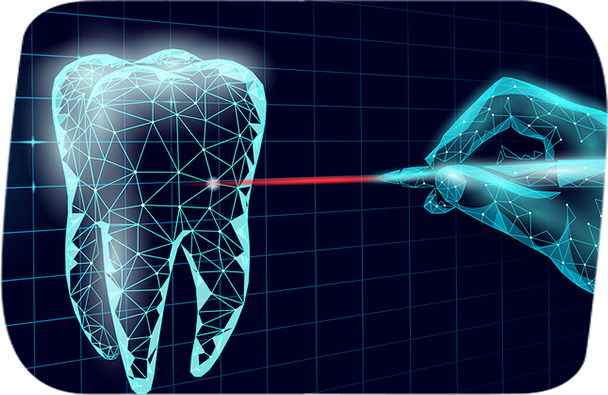 How Are Laser Treatments Performed?
The two main types of procedures involved in laser dentistry concern the hard and soft tissues. Hard tissue laser treatments are for the teeth and surrounding bone, whereas soft tissue laser treatments are for the gums, palate, cheeks, and lips.
The most common hard tissue procedures include cavity detection, tooth preparation, crown lengthening, and treating tooth sensitivity. Soft tissue procedures include treatments for gummy smiles, treating tongue frenulum attachment, and removal of soft tissue folds and anomalies.
Laser dentistry also includes other procedures such as removing benign tumors, treating obstructive sleep apnea and TMJ disorders, nerve regeneration, treating cold sores, and teeth whitening.
Benefits of Laser Dentistry
Laser dentistry provides the following benefits to patients:
Eliminates the need for sutures
Bleeding is minimized
It can waive the need for anesthesia
Since the laser sterilizes the area, the risk of infections is lowered
Wounds tend to heal and tissues regenerate faster
It provides less damage to the surrounding tissues
Lasers in Laser Dentistry
Depending on the treatment, the dentist uses either hard or soft tissue lasers. In some cases, they may use both types of lasers when the treatment involves both types of tissues.
Hard tissue lasers are used to prep or shape the teeth for crown lengthening and restoration. This is achieved by removing bone tissue along with the removal or repositioning of the soft tissue around the tooth in order to expose healthy structure for better retention of a restoration. Since lasers seal the endings of the nerves and blood vessels, many patients do not feel any kind of pain when undergoing treatment.
Soft tissue lasers are often used for treating periodontitis, killing bacteria, and activating the tissue for regrowth. Hence, they are considered the best treatment for patients suffering from gum disease.
With over 30 years of experience offering exceptional dental services to the community, at Cheyenne Mountain Dental Group, we are still continuing our journey, under the leadership of Dr. Stephen Davis along with Dr. Bill Bertsch. For more details and appointments, call us at (719) 576-3276, book online, or visit us directly at 3605 Star Ranch Rd, Colorado Springs, CO 80906.